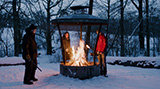 Jan Fröhlich, Stefan Grandinetti, Bernd Eberhardt, Simon Walter, Andreas Schilling, Harald Brendel
These Open-EXR files are not meant for direct display. They are the equivalent to RAW camera files.
To be displayed properly, these files have to be color graded and tone- and gamut-mapped.
The HDR camera footage can be useful for working on camera characterization, and verifying
postproduction pipelines. The content can also be used for research on tone- and gamut-mapping.
The Open-EXR files are available from the SFTP server that can be accessed by submitting your email
on the bottom of this page. If you are only interested in the reconstructed scene radiance only
and not the color graded versions, download just the 'HDR_Camera_Footage' folder.
Download the raw camera footage.